Work with web design and copy writing experts in just four simple steps.
Pick a Web Design
Choose your favorite website from one of 12 design choices. We'll customize it for your company so you can focus on running your business..
Pick The Services
Our seo consultant /writer learns about your business and creates Google friendly SEO pages, turning your site into the ultimate advertising tool.
Pick Social Media
Select any social media outlet you choose (Facebook, Twitter, etc.) and our strategist will set it all up, including your Google+ and Yellow Page.
Launch Your Site
Aside from a short interview, no work is required on your part. Along with the design and content writing, you get three years of free hosting.
Buy Your Design Package
No-nonsense pricing for no-nonsense people
Custom Quotes Available
If you have specific needs outside of our three options contact us directly for a quote.

Web Design Services
Three tier pricing available
Having a mobile website design is like a new age phone book ad that never ends. Hire a salesperson who never calls in sick and works 24/7 forever.
Be Seen Online
Phone book ads and newspaper ads are expensive and time consuming. Plus, over 70% of your customers search the web before picking up a phone book or newspaper. Go directly to your buyers with a website AND save money over the life of your business with our Michigan web design company.
Save Your Money
Consider this: If you spent a year, every day, advertising in the newspaper the average classified ad is $1700 (or more) and you still need website development because 70% of customers are on the web looking for you. A phone book company can create a web design too HOWEVER, they often charge $70 a month (or more) FOREVER. That's nearly $850 EVERY year or $2550 for three years!
Flat Fee Pricing
We hate dealing with a 'runaround' when it comes to prices. That's why with us you pay a flat fee for your site and nothing more for the first three years. No haggling; no gimmicks. Plus, unlike other providers, we do everything to get you up & running for that fee, including writing local SEO copy and providing stock images that make your company look superior to your competitors.. Afterward, the only cost to you is a yearly web hosting fee, which is currently priced at $125 a year (and includes renewing your domain name). Again simple, fast and easy with no surprises.
All Our Services
Contact I Want Marketing does web design but we an also handle all of your promotional needs under four key services.
CLIENTS
Local Web Design
Check out these Monroe MI businesses and organizations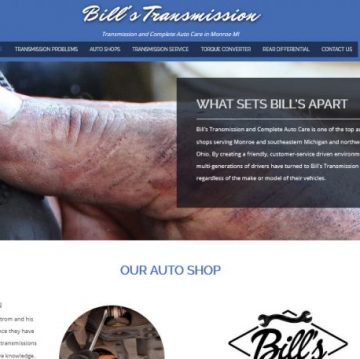 Bill's Transmission & Complete Auto Care
Auto shop serving Monroe and southeast MI & northwest OH
After purchasing the auto shop from someone else, we needed an online presence because the prior owner never did marketing for the company. So, when I Want Marketing reached out, their services were a perfect fit. They made a site and set us up on Google, Facebook and reworked our current listings online to reflect the change of ownership. That saved hours of time and frustration for us. They listened to our input, but did all the work.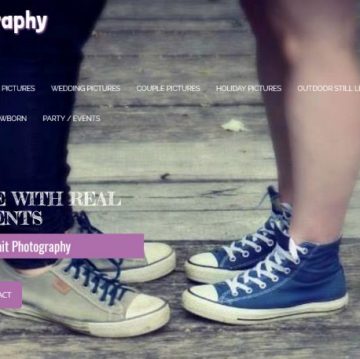 Alisha's Photography
Local Monroe MI Photographer for portraits and events
I have a Facebook account that I use for current promotions and announcements. With one trip, I Want Marketing came in, talked to me and then handled everything from start to finish. I have a site on the web now and I didn't have to spend hours at a do-it-yourself web provider. Plus, when I want to update the site myself I can do it alone, which is very convenient. I recommend I Want Marketing for anyone one who's looking for a new site or upgrade.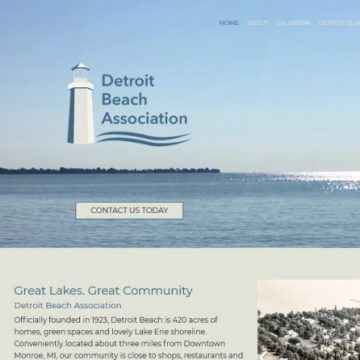 Detroit Beach Association
Monroe MI Homeowner Association
We needed a site that our neighborhood could use 24/7. that hosted our most popular forms. This way our residents could download them anytime they needed them instead of waiting for office hours.. We also required a place to keep our newsletters for future reference. Along with a website that looks captivating, I Want Marketing also designed an original logo for our printed materials that makes us stand out. We couldn't be happier with the service.